What the hell is a binder?
One of the most powerful features of our tracking tool are the binders. We use them to tag tweets based in their content so you can compare statistics between these categories, show the content of a particular binder in a tweet wall, curate the content inside a widget in your website and many other great stuff.
You can create binders inside the "Classify" section. Select "New Binder", assign a name to the binder and add the terms, hashtags or plain text you want to be included inside this binder.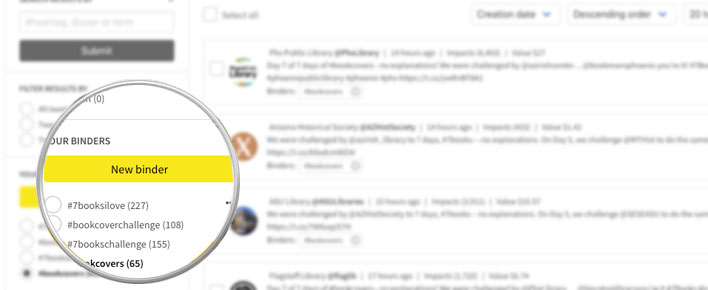 Once you create the Binder, all the tweets containing the defined terms will automatically be tagged with the name of that Binder. If you are capturing tweets in real time, all new tweets containing the defined terms will be tagged automatically as well.
Below the New Binder button, you can see the "Suggested binders". These are the most repeated terms in you collection or, in other words, the trending topics of your collection. You can select one and generate a binder with just one click. Let's see an example with a tennis final between Nadal and Djokovic in the Monaco Open:
You can create a collection that captures tweets in real time that contain the official hashtag "#montecarloMasters". Then create a binder for each player, one for Nadal with the terms "Rafa Nadal", "@RafaelNadal", "#vamosrafa" and one for Djokovic with the terms "Novak Djokovic", "@DjokerNole", "Nole". Tweets will automatically go to the corresponding binder as they are captured. Obviously you can manually classify tweets or update the terms for each binder at any moment.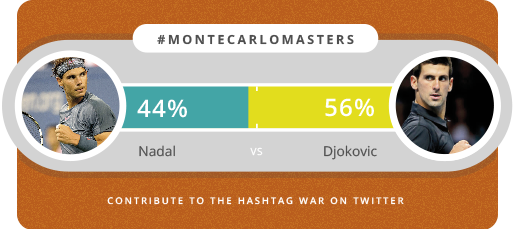 Now you can create a "Hashtag/User war" widget to display live Twitter content in your site. You can even compare the stats between binders in "Binder details" table inside the "Statistics" tab.