How an interactive Social Feed can rock your event
For second year in a row, the radio station COPE has chosen Tweet Binder to display all the tweets sent during their season premier last September 8th @cope_es, with more than 281,000 followers on Twitter, is always trying to listen to what his audience and users say on Social Networks, they are always tracking their opinions and comments. From the beginning they have been using Tweet Binder to track these comments and, in words of COPE's Community Manager Miguel Soria "using Tweet Binder is one of the best decisions we have made".
The hashtag #QuieroCOPE had huge activity that evening on Twitter. During this year's presentation, they received 2,615 tweets and 1,247 users participated generating more than 24,306,000 impressions.
Miguel Soria testimonial – COPE's Community Manager
Not only they track the activity on Twitter, but they also want to make the assistants to their events feel like they are being heard, That's why they put Tweet Binder Social Walls at their events. As Miguel says "Social Walls help us making people feel part of the event. The audience wants to be heard, to feel that their comments don't get lost in the way, wants to know that there is someone behind the radio o computer that not only listens to their comments but also interacts with them".
When asking Miguel about how they felt managing the Wall, he feels like the tool is very user friendly, "its great design, visibility and accurate refreshing time make of Tweet Binder an essential tool to have at your event".
When we say that COPE group is always trying to innovate, we are not kidding. The event was being live streamed via Facebook Live and COPE's team managed to integrate Tweet Binder's social wall during that streaming.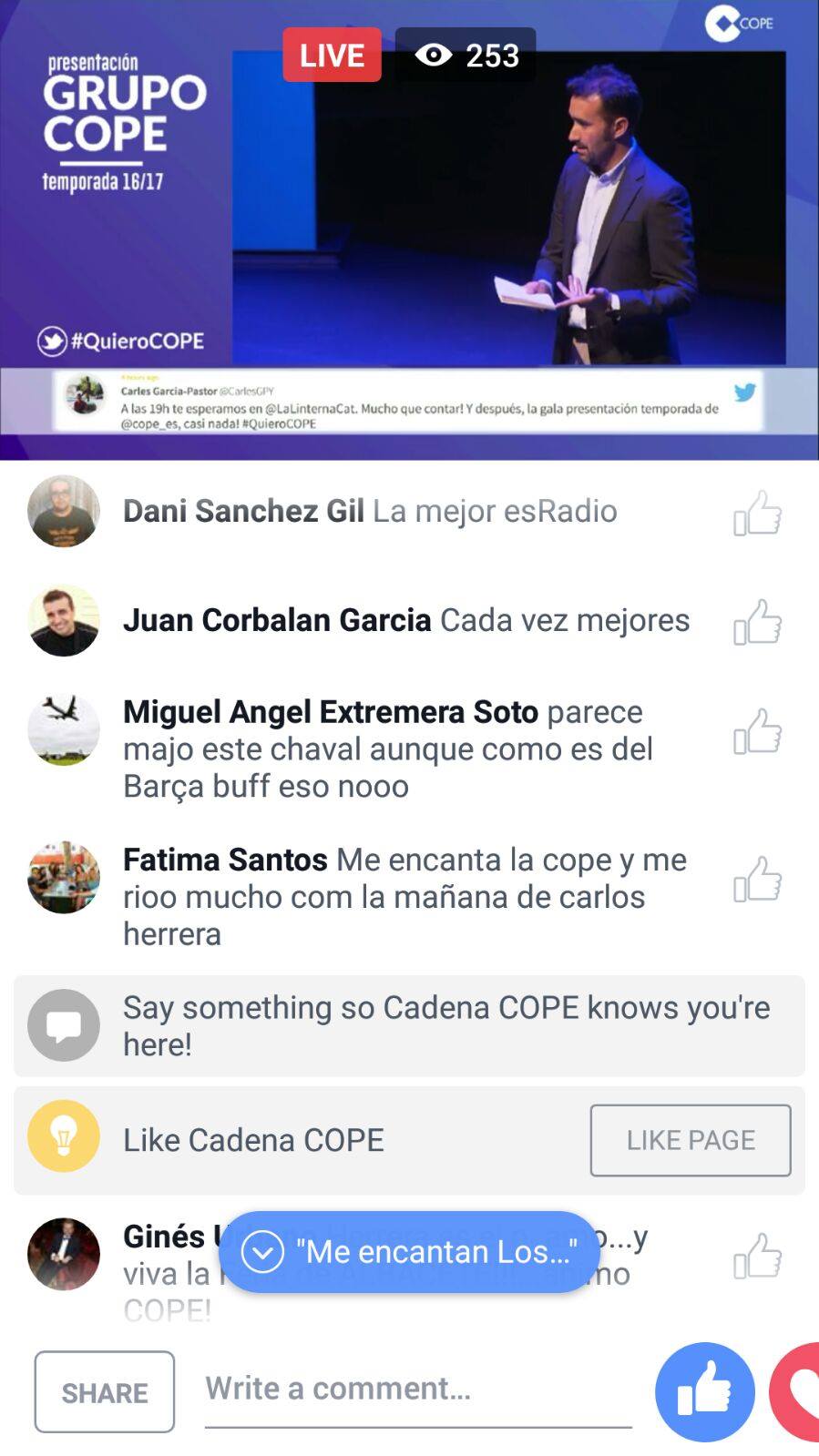 Miguel sums up his experience with Tweet Binder as follows: "We have been working several years with them and I only have words of gratitude. The tool works really well and, whenever technical support is required, its human team is always available. It is very easy-to-use and you can rely on it; this, added to its versatility of adaptation to different platforms, helps you not having second thoughts on using it. But, above all I want to highlight the team behind the tool, they are great professionals that have never hesitated on helping us and answering any doubt we may have or in reacting to any tiny problem we could have".
As a community manager and the essential role Twitter has in the relationship between COPE and Tweet Binder, we have asked Miguel to resume his experience in 140 characters: "Tweet Binder is a powerful, liable and really useful platform, backed up by a team that knows exactly what they are doing".
If you also want to integrate our Social Walls at your events, please contact us ASAP! We are always with the doors open to new and exciting projects and we would like to help you with yours!