A great year for Instagram and Twitter analytics
2016 has been an amazing year, we couldn't be happier and more excited. It is great to work in the Twitter and Instagram analytics market when exciting things happen everyday. It's also that time of the year when everyone is making New Year's Resolutions; when everyone is thinking about whether going back to the gym or quitting eating sweets. But it is also that time when we turn our heads back to see how this year has been and all the great things we have done. So, let's recap! 2016 has been a great year at Tweet Binder and I want to share it all with you. I've been playing sports, running for president in several countries and I even had time to stop by some of the most famous festivals!
I did not need a DeLorean to go back to the future and bring you all the tweets that you need. With the help of my amazing team we managed to be able to go further than 30 days back and create amazing impact reports with all those stats. As you already may know, our reports give you data with no data range limit, we can go back to the day the hashtag/term/keyword was first used.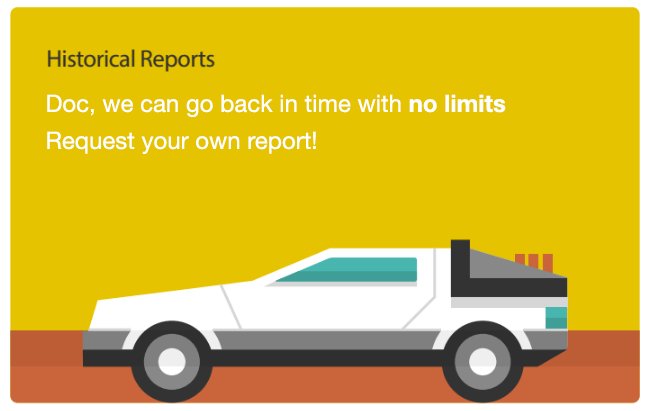 Also, we gave really good news to all our free users. Now they can run their own reports of the last 7 days and up to 2,000 tweets for free!
But, not everything I do is based on Twitter stats. This year we also introduced our Instagram analytics for hashtags! At this moment, with Tweet Binder, you can track any hashtag on Instagram and have amazing impact reports to give to your clients. We even changed our plans so now you have one for Twitter, one for Instagram and one combining both.
Can you imagine giving all these reports (Twitter and Instagram) your own corporate image? Instead of having TweetBinder's look they can have your agency's or company's image. You just have to give us some directions on the design you want your reports to have and we will generate a very good looking report.
¡Pero también he aprendido a hablar en español! En diciembre hemos introducido nuestra versión en castellano para que todos nuestros usuarios que hablen este idioma puedan utilizar la herramienta con mayor facilidad. So, it's time for ¡Siesta! ¡Paella! ¡Olé! 💃💃
This year, and I hope to keep doing it in 2017, I have managed to stay fit by playing hockey, soccer and football. Every sports team has its ways to make their fans be part of the game. The Red Wings, from Detroit, installed several Photo Walls #AtTheJoe, their stadium, so that people watching the game could upload their pics and see them in the big screen. People were over the moon with this action because they felt part of the Red Wings' team. It is important to say that all the images were previously moderated so that no inappropriate content was displayed on the screens.
I've also been playing American football with several colleges. For this, we set up several hashtag wars to virtually confront the colleges that were playing "in real life". Fans could vote for their favorite team on Twitter and see in real time if their team was winning or not.
Last, but not least, I've also practice some soccer with the top european teams. Not only we did a contest for Atletico de Madrid's fans but we also tracked all the activity surrounding the UEFA Champions League and created our own virtual matches with and incredible hashtag wars and creating the best 11 based on the mentions they received on Twitter.
To keep it festive during the whole year, I attended some great festivals where I had such a real good time. I started with the Utopia Music Festival in Madrid where I danced to the music of Martin Solveig, Armin Van Buuren or David Guetta. In order to promote the Disney Pixar Movie "Finding Dory", we installed big screens where pics sent by assistants to the festival where displayed. All these, as always, were displayed after previous moderation. I also attended the world wide know San Fermín festival, managed to run with the bulls and I also installed a huge wall on street for the festivity of Our Lady of the Pilar.
To sum up this 2016's highlights I have to mention our Top Social Coverages. We proudly tracked activity surrounding the Oscars, the Spanish Elections and went to New York City and attended The Next Web Conference. For this action we developed a site were all the stats posted on Twitter about the event were displayed on real time and even a leader board of the top speakers.
It is impossible to sum up in one post everything we have done in one year. There were lots of Events, Social Walls, Contests, Hashtag Wars and much much more! This year, we want to thank all our great clients with whom we have been able to develop such great actions and we hope to keep doing it next year.
Stay tuned for a better 2017! Contact us now and lets start working together so that you actions can look, at least, as great as the ones in this post!