Tweet Binder adds Instagram to its events' features
We are over the moon, we are glad to present Tweet Binder's new walls with Instagram pics on real time! From now on, you will be able to display Instagram content at your event with our Social Media Walls. The importance of Instagram is growing day by day and that's why we have worked really hard to be able to introduce its content into our walls. So now we have tweetwalls, instagram walls and walls combining both Social Networks.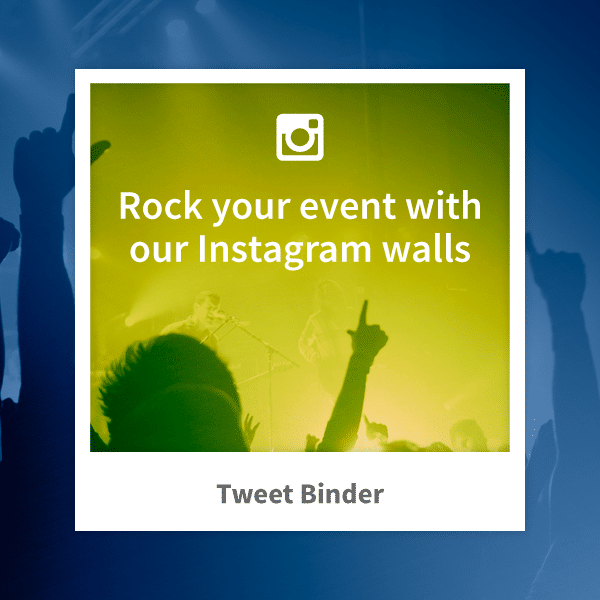 Walls with pics, tweets and much more! Accurate content with our moderation panel
If you want to promote the best event ever you should show the best pics and tweets. Thanks to Tweet Binder, you can choose between showing tweets, Instagram pics or both content. Obviously it's the best option to amaze your audience or clients depending on their target or kind of event. Moreover, you will be able to moderate it easily and decide what do you want to show on big screens.

Remember that Tweet Binder offers different walls to cover all your needs.
All in One Plus Wall: Show all the general stats in real time. Number of tweets, impressions, contributors, reach of the campaign and a transcripts.
All in one PRO Wall: The most complete wall to show the latest images, users, tweets and general stats.
 Ticker Tracker: Share your tweets one by one along with a live streaming screen.
Speakers/Players Wall: Create a ranking of most popular speakers or players.
Modular Wall: Display all the pictures shared by users on a personalized wall.


Now it's your time to discover the New Instagram Wall and start displaying pics sent by the assistants to your event. Feel free to contact us if you need more info we will be more than happy to help you.