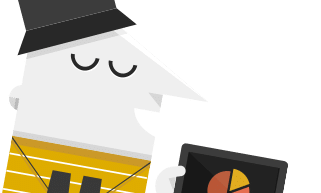 As the year comes to its end we feel the need to think about all we've achieved and learnt during 2014. We have had lots of projects, reports and campaigns. Our hashtag tracking tool has never stopped working. 2014 has been a year of records when it comes to Twitter analysis and stats at Tweet Binder.
The beginning of the year was a mix of fear and hope. It's hard to explain how we started to gain clients, and what's also more important, reliable users that kept using the tool and giving us a priceless feedback. Maybe the best way to get to know our path is by recovering some of our tweets.
We started the year being ambitious:
We are preparing a new Home for http://t.co/9Jt3HO3vdo, stay tuned, stay hungry.

— Tweet Binder (@TweetBinder) January 11, 2014
We kept working hard and even felt we were doing magic:
In a few days, our PRO users will be able to Merge Sessions. Something that can be consider as Magic, yep, Magic. — Tweet Binder (@TweetBinder) February 11, 2014
We realized that our tool was responding well and working fabulously. We felt like stars thanks to you.
We registered during the #Oscar2014 more than 15,9 Million tweets. Amazing night! — Tweet Binder (@TweetBinder) March 3, 2014
We released our first and new Twitter Walls and attended amazing events all over the world.
Customized Tweet Wall at #SESJakarta fantastic work today. pic.twitter.com/Ms1bOaJjXY — Tweet Binder (@TweetBinder) March 19, 2014
We played to win, and we did.
If you like tennis stay tuned for some great news soon. If you don't like tennis just stay tuned for some great news anyway. — Tweet Binder (@TweetBinder) April 17, 2014
And we invited you to play too.
We are about to launch new features, but we don't want to spam you guys, so just go to our website and try.

— Tweet Binder (@TweetBinder) June 6, 2014
We found the best way to enjoy the summer: showing our improvements on main scenarios.
Our new tweet wall live in #SanFermin2014 (tweets, stats, pics and trending topics!) Wanna try? pic.twitter.com/xRdJ21jJG4

— Tweet Binder (@TweetBinder) July 11, 2014
And we kept learning. We are always listening, trying and failing learning.
A great day at #integrate with @Twitter thanks for this great NYC event! pic.twitter.com/w1zLWlmego

— Tweet Binder (@TweetBinder) July 18, 2014
We followed the trends and we accepted every suggestion and challenge made by you, users and clients.  They helped us to be better tool and a better company. We have already learnt we need youto be who we are.
Our @MisterBinder has accepted #IceBucketChallenge and he nominates @mmsyellow and @mmsgreen. Will they accept? pic.twitter.com/ZwkrWugG7X — Tweet Binder (@TweetBinder) August 25, 2014
 And the family grew in the need to become competitive and more reliable.
We're happy to announce our new partner: http://t.co/3d2FIspWxb Welcome to the team @AndresFdez86!

— Tweet Binder (@TweetBinder) September 4, 2014
Our Development Team showed us that with hard work there are no limits. They never stopped trying to offer new amazing features.
Our tweet wall in #canalamc great way to engage with people. pic.twitter.com/o2hBEpp2Rv — Tweet Binder (@TweetBinder) October 30, 2014
Because loving what you do has shown us that is the best to succeed.
This weekend we had a little hackathon in Tweet Binder and we came up with something AMAZING. In the next days news. Happy happy.

— Tweet Binder (@TweetBinder) November 16, 2014
Yes, 2014 it's been busy and amazing. Our search button has been clicked more than 265,000 times and we've worked with awesome clients. What a year!
We'll see what's to come in 2015. We promise you that we'll do our best to keep on improving the tool and surprising you.